D.D. LaPointe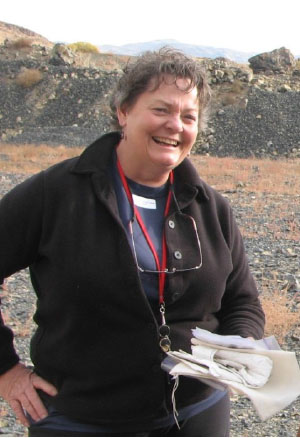 It's been a circuitous route for Daphne Denise LaPointe (called D.D. since birth –not sure why – ask her Mom!) from the tiny village of Summit, Rhode Island, where she was born, to Reno. She would probably still be back there with her 27 aunts & uncles and 50+ first cousins in a family of "Swamp Yankees" traceable back 12 generations or more in New England genealogy, except for the enthusiasm of an earth science teacher with the unlikely name of DaVinci Leonardo DeLuca. He made the effort to take her class on weekend geology field trips in 8th grade, and as a result she was hooked on rocks for life. The same teacher later mentored her and a few other promising high school science students, taking them on college pre-view trips that encouraged several of them to apply to colleges they would never have attended otherwise. She went to Smith College and Williams College in Massachusetts and graduated from Smith in 1973. At Smith she participated in a grant-supported summer field program to the Colorado Front Range and Sunlight Basin in Wyoming in 1972, where she was sur-prised to find for the first time that there were rocks you didn't have to scrape moss & lichen off to see fresh surfaces. It was her first excursion west of the Hudson River and she didn't want to go back to those sporadic exposures of moss-covered rocks.
Having seen "real rocks," she applied to grad schools in the West and ended up first at UCLA and later at the University of Montana in Missoula, (where she shared a grad student office with GSN member Debra Struhsacker!) and where she completed her masters degree mapping a small volcanic center in the Absarokas. In between those two schools she worked for Exxon Minerals Exploration in 1974 – as a field tech for current GSN member, Rick Schwarz, doing base & precious metals exploration in Idaho & western Montana. She had the misfortune on her last day of work on that job to be run off the road by a drunk driver near Dillon and rolled her pickup truck along with its load of soil samples. She was not badly injured, and bad luck turned into good when another Exxon employee and his summer student working a few hours away came by with a replacement truck for her to use to retrieve her samples and haul them back to Missoula. His name was Tom Irwin (another current GSN member!).
Tom and D.D. were married in 1975 in Rhode Island (with all those relatives in attendance!) She continued working in minerals exploration for Utah International out of Missoula mainly in western Montana while Tom continued working for Exxon. Tom was transferred to Tucson, Arizona in 1976 and so they moved south. In Tucson, D.D. took a break from field work and practiced real estate until their first daughter, Tamison, was born in 1978. Exxon then transferred Tom to head up a new exploration office in Reno and they moved here in 1979.
After a couple years on the "Mommy Track," D.D. missed geology and applied for and found work at NBMG doing mining district research for Joe Tingley on the USGS mineral resource evaluation project in 1980. She and Tom had a baby son Thomas in 1982. D.D. says that one of her warmest GSN memories is all the help and support GSN members gave her and Tom when their son was being treated in San Francisco for cancer in 1989, when countless GSN members drove over "the hill" and visited and donated blood needed in his treatment. She will never forget that and can never repay all the GSN members for their rock-solid support during those tough times. In 1991, the family welcomed the arrival of Teila; many GSN members have shared in the family's joys following her exploits as she has grown up, now studying engineering at UNR.
D.D. continues to work as a faculty member of the Nevada Bureau of Mines and Geology where over the years she has authored, co-authored, or contributed to numerous Bureau publications, including "Mineral Resources of Elko County" (1991); Radon in Nevada (1994), "Rocks, gemstones, minerals, and fossils in Nevada" (2001); "the Nevada mineral catalog" (2004); many open file reports, and all of the Earth Science Week road logs for the past eleven years. Most recently, D.D. has been focusing her efforts on the education of Nevada science teachers (in conjunction with the UNR College of Education and the Nevada Mining Association) and editing work on both Bureau publications and for the Nevada Dept. of Emergency Management on hazard mitigation plans. She continues to co-lead the yearly Earth Science Week field trips, which many GSN members participate in and enjoy.
D.D. has been a GSN member for more than 30 years, an occasional officer, and helped to establish the GSN Foundation. She is currently a board member of the Foundation and continues to run the yearly "rock raffle" in support of its fundraising mission. She has been scholarship chair of the Reno WAAIME section for many years, which complements her work in coordinating scholarships for Mackay students at UNR. She enjoys quilting, rockhounding, gardening, hunting big game with Tom, and spending time with their grandchildren, Bradley and Hannah.